Ingredients: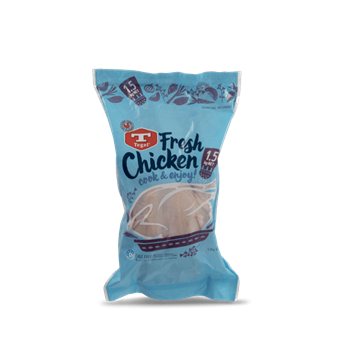 1 Tegel Fresh Whole Chicken, cut into 8 portions
2 onions, peeled and sliced
3 lemons, sliced into thin rounds, skin, rind and all
4 Tbsp chopped fresh herbs – rosemary, thyme, sage etc.
3-5 Tbsp Olive oil 
Method:
1. Choose a decent sized roasting dish. You want a dish that will fit all of the above ingredients in a snug, but not crowded, way. Likewise don't use a dish too big or the gaps between the ingredients will mean drying out is a possibility and that will be no good at all.
2. Brown each piece of chicken either on the bbq or in a pan. Once browned, place in the roasting dish lined with the onions and lemon slices. Sprinkle over chopped herbs, olive oil and season with salt and pepper. Cover with foil.
3. Return to the bbq (or into a moderate oven). Cook for 30-40 minutes then uncover (watch the steam!). Cook for a further 10 minutes until the onions and lemons are golden and gooey.
4. Serve with a simple green salad. 
Tips for BBQ Tuscan Chicken with Caramelised Lemons:
Rate this recipe
Share this recipe