Ingredients: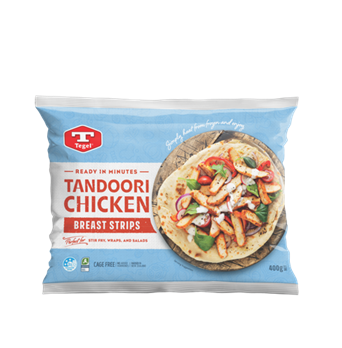 400 grams Tegel Tandoori Chicken Breast Strips
1 tablespoon olive oil
1 tablespoon butter
1 large onion, finely chopped
1 teaspoon each ginger and garlic paste
1 bay leaf
2 cardamom pods
1 cinnamon stick
½ teaspoon turmeric
¼ cup red curry paste
1 ½ cups Basmati rice
3-4 cups Chicken stock
¼ cup Dried fruit – diced apricots, cranberries or raisins
Method:
1. Heat the oil and butter in a large heavy based pan and sauté the onions, garlic and ginger paste, bay leaf, cardamom pod, turmeric and curry paste for 2-3 minutes over a medium heat until soft and fragrant.
2. Add the rice and toss to coat the grains then add 3 cups of the stock and cover and simmer gently for 10 -12 minutes, stir well and add the chicken strips and dried fruit, simmer a further 8-10 minutes (adding a little extra stock if needed) until the rice is just tender.
3. Serve the chicken & rice Biryani with a dollop of yoghurt, fresh chopped coriander and sprinkle with toasted almonds if desired.
Rate this recipe
Share this recipe
You might also like

Related Recipes:

Related Products: