Ingredients: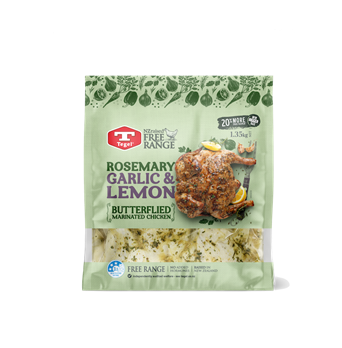 1 x Tegel Free Range Butterfly Chicken
Spray oil
2 cups cous cous 
2 tablespoons lemon zest
1 teaspoon caraway seeds
1 clove garlic, finely diced
1 tablespoon finely diced fresh ginger
2 cups boiling chicken stock
Fresh chopped herbs, Italian parsley or coriander
1 cup Greek style yoghurt
½ cup finely diced cucumber
8 mint leaves, finely sliced
Pinch smoked paprika or chilli seasoning
Cherry tomatoes, yellow vine tomatoes, fine sliced red onion, chilli, lemon zest and olive oil
Method:
Pre-heat the oven to 180 degs, and line a large roasting tray with baking paper. Arrange the butterfly chicken on the tray with the skin facing up, lightly spray with oil and cook for 45-50 minutes or until golden and the juices run clear.
Place the cous cous in a large glass or stain steel bowl and add the lemon zest, caraway seeds, garlic and ginger, pour over the hot stock and cover for 5-8 minutes then fluff up with a fork, season to taste and toss with the fresh herbs just before serving.
Mix the yoghurt, cucumber, and mint together and season with the paprika or spice.
For a quick tomato salad toss the chopped tomatoes, red onion slices, chilli, lemon zest and olive oil.
Serve the butterflied chicken with a side of cous cous and colourful tomato salad and finish with a dollop of cool minty cucumber yoghurt.
Tips for Butterflied Chicken with Tzatziki Yoghurt Dip and Fragrant Cous Cous :
Rate this recipe
Share this recipe