Ingredients: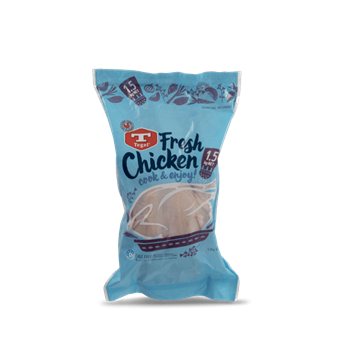 1 cup packed fresh basil
1 cup packed fresh coriander
2 Tbsp lemon juice
1 tsp lemon zest
3 Tbsp olive oil
2 cloves garlic, crushed
1 tsp salt
Freshly ground black pepper
Method:
1. Using a pair of kitchen scissors, cut along each side of the backbone of the Tegel Fresh Whole Chicken. Discard the backbone. Place the chicken on a flat surface and press down to flatten it. Cut slashes into the skin of the thighs and drums.
2. Finely chop the basil and coriander. Combine the basil, coriander, lemon juice and zest, olive oil, garlic and salt and pepper. Place the chicken into a large dish. Spread the herb mixture over the chicken. Cover and refrigerate for 30 minutes.
3. Preheat the oven to 180°C.
4. Place the chicken into a roasting dish and roast for 1 hour, or until the chicken is cooked through. Baste frequently. Serve with baby boiled potatoes and a fresh salad or seasonal greens.
Tips for Butterflied Roast Chicken with Basil & Coriander Crust:
Rate this recipe
Share this recipe