Ingredients: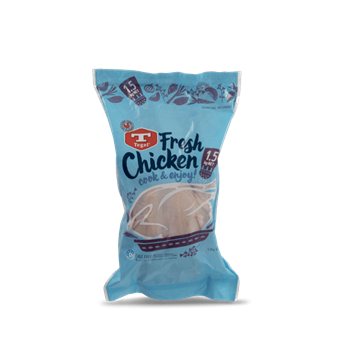 4 cloves garlic, crushed
1 Tbsp minced chilli
1 fresh chilli, chopped finely
2 Tbsp minced lemongrass
2 Tbsp fish sauce
2 tsp tamarind pulp, soaked in a little warm water to loosen
1 Tbsp brown sugar
2 Tbsp fresh lime (or lemon) juice
1 tsp salt
1 tsp sesame oil
1 Tbsp cooking oil
1 Tegel Fresh Whole Chicken, cut into 8 portions
Method:
2. In a bowl mix all ingredients together until well mixed and sugar has dissolved.
3. Add the Tegel Fresh Whole Chicken pieces and coat evenly, turning and stirring the chicken in the marinade. Allow chicken to marinate 15-30 minutes, or up to 24 hours (covered and in the refrigerator).
4. Cook on a preheated barbecue over medium heat, turning chicken 2 or 3 times for 30-35 minutes until chicken is cooked and juices run clear.
5. Serve with a rice salad and fresh green salad.
Tips for Chargrilled Chilli Chicken:
Rate this recipe
Share this recipe