Ingredients: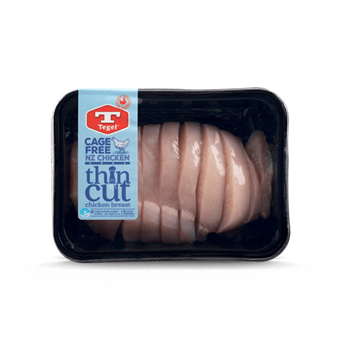 1 Tbsp olive oil
2 cloves garlic, crushed
1 tsp paprika
1 tsp ground cumin
500g Tegel Thin Cut Chicken Breast, cut into strips
1 red onion, sliced
1 red pepper, deseeded and sliced thinly
2 Tbsp lime or lemon juice
2 Tbsp chopped fresh coriander
To Serve:
8 flour tortillas, warmed
Sour cream, chopped tomatoes, chopped avocado, fresh coriander leaves and Mexican salsa (optional)
Method:
1. Combine the olive oil, garlic, paprika, cumin and Tegel Thin Cut Chicken Breast in a bowl.
2. Heat a frying pan and brown the chicken in 2 batches over high heat. Remove the chicken from the pan.
Add the red onion and red pepper to the pan and cook for 2 minutes. Add the browned chicken, lime or lemon juice and chopped coriander. Season with black pepper and cook for a further 2 to 3 minutes or until the chicken is cooked.
3. Serve immediately in the tortillas, topped with sour cream, tomatoes, avocado, fresh coriander and Mexican salsa if desired.


Rate this recipe
Share this recipe