Ingredients: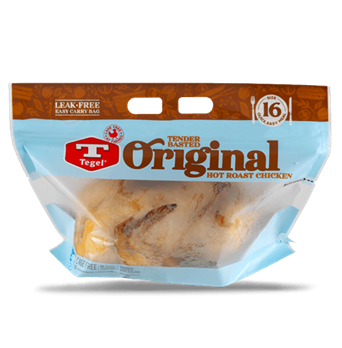 1 garlic clove, crushed
1 tsp dried oregano
1/2 tsp dried basil or
1 Tbsp fresh basil, chopped
1 cup tomato puree
1/2 cup water

Cheese Sauce:
60g butter
1/4 cup flour
2 cups milk
1 cup grated tasty cheese
3 large sheets fresh lasagne
1/2 cup grated mozzarella cheese (or alternative cheese)
Method:
1. Preheat oven to 190˚C. To prepare the chicken filling,  heat a dash of oil in a frying pan. Add the Tegel Tenderbasted Hot Cooked Chicken and garlic and cook for 3-4 minutes over medium to high heat, until golden brown. Add remaining ingredients and simmer for 5 minutes or until the sauce is slightly thickened.
 
Cheese sauce:
1. Melt butter in a small saucepan. Stir in flour and cook over medium heat, stirring, until blended. Gradually add milk, stirring constantly. Continue stirring over medium heat until sauce boils and thickens. Cook for a further 1-2 minutes, then stir in tasty cheese.
2. Grease a 2 litre capacity, rectangular baking dish. Add a sheet of lasagne. Top with 1/3 of the mince mixture and 1/3 of the cheese sauce. Repeat twice, ending with a layer of cheese sauce. Top with mozzarella cheese (or an alternative).
3. Bake for 35-40 minutes. Allow to rest for 5 minutes before serving.
4. Serve with a fresh green salad
Tips for Chicken Lasagne:
Rate this recipe
Share this recipe