Ingredients: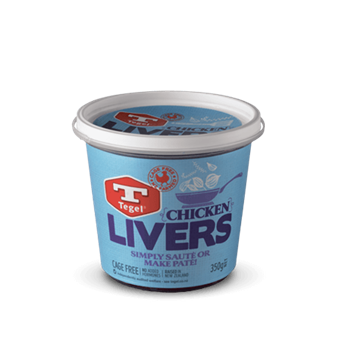 15g  butter
1 small onion, finely chopped
1 clove garlic, crushed
1 tsp finely chopped rosemary
350g Chicken Livers
2 Tbsp redcurrant jelly
150ml cream
1/2 tsp salt
Freshly ground black pepper
Method:
1. Preheat the oven to 180°C.
2. Heat the butter in a frying pan. Add the onion, garlic and rosemary and cook over low heat for 5 minutes or until the onion is soft. Allow to cool slightly.
3. Trim any fat, discoloured spots and membrane from the Chicken Livers . Place the onion mixture, chicken livers, redcurrant jelly, cream and salt and pepper in a food processor. Process until the mixture is smooth. Pass the pureed mixture through a fine sieve.
4. Butter 3 individual cup ramekins and fill with the sieved mixture. Cover each ramekin with foil and place in an oven dish. Add almost-boiling water to the oven dish so the water comes half way up the sides of the ramekins.
Bake the parfaits in the  oven for 20 minutes or until they are just set. Remove from the oven dish, and allow to cool to room temperature. Cover and refrigerate for several hours.
5. Serve with toast, crostini or crackers, onion marmalade and salad greens.
Tips for Chicken Liver Parfait with Rosemary & Redcurrant Jelly:
Rate this recipe
Share this recipe