Ingredients: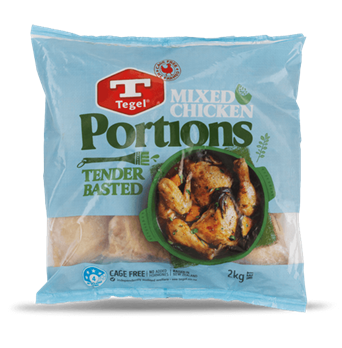 4 Tegel Mixed Chicken Portions 2kg, cooked, skin removed
8 crisp lettuce leaves
1 avocado, peeled, stoned and diced
1-2 cup melon cubes (e.g. rock melon, cantaloupe or watermelon)
2 Tbsp lemon juice
2 stalks celery, diced
2 spring onions, diced
1/2 cup walnut halves, lightly toasted
1/4 cupFrench dressing, to drizzle
Method:
1. Place the cooked Tegel Mixed Chicken Portions 2kg on a bed of lettuce leaves on a serving platter.
2. Combine the avocado and melon in a bowl. Sprinkle with lemon juice and carefully turn the ingredients with a spoon to coat. Add the celery and spring onions and walnuts. Serve over the chicken. Drizzle with the dressing.
Tips for Chicken, Melon & Avocado Salad:
Rate this recipe
Share this recipe