Ingredients: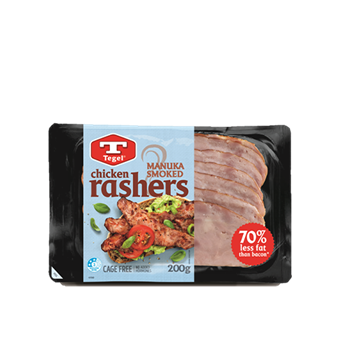 Method:
1.Pre-heat oven to 180°C.
2. Heat a dash of oil in a frying pan. Add the Tegel Manuka Smoked Chicken Rashers , garlic and onions and cook over medium heat for 2 to 3 minutes. Remove from the pan and place in a large casserole dish.
3. Add the mushrooms to the pan and cook for 2 to 3 minutes. Place the mushrooms in the casserole dish.
4. Place the flour, in a large plastic bag and season with salt and pepper. Add the Tegel Mixed Chicken Portions 2kg to the bag and toss to coat in the flour mixture.
5. Heat a little extra oil in the pan. Brown the chicken pieces in batches over medium heat, then place the chicken in the casserole dish. Add the thyme, bay leaf, red wine and tomatoes to the casserole. Cover and bake for one hour or until the chicken is tender.
6. Stir in the parsley. Serve with mashed potatoes and green beans.
Tips for Chicken, Mushroom & Red Wine Casserole :
Rate this recipe
Share this recipe
You might also like

Related Recipes: