Ingredients: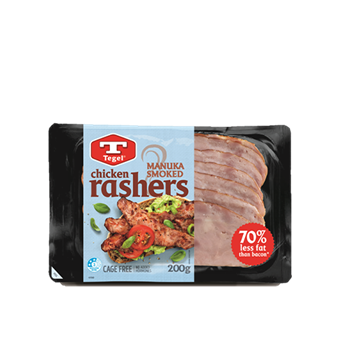 Pastry:
1 1/4 cups flour
100g cold butter, diced
1/4 tsp salt
2 to 3 Tbsp ice-cold water
Filling:
200g Tegel Manuka Smoked Chicken Rashers , chopped
2 eggs, lightly beaten
1/2 cup cream
1/4 cup milk
150g marinated artichokes, drained
50g semi-dried tomatoes, drained and sliced
2 Tbsp grated parmesan
2 Tbsp chopped parsley
Method:
Pastry:
1. Place the flour, butter and salt in a food processor and process until the mixture forms fine crumbs. With the motor running, add the water gradually until the mixture comes together in a ball.
2. Roll the pastry out thinly between two sheets of baking paper and use to line a 24 cm diameter loose-based tart tin. Chill for 30 minutes.
3. Preheat the oven to 180°C.
Filling:
1. Heat a dash of oil in a frying pan and cook Tegel Manuka Smoked Chicken Rashers over medium heat until the bacon is golden. Set aside to cool slightly.
2. Combine the eggs, cream and milk in a bowl. Season with salt and pepper.
3. Arrange the artichokes, semi-dried tomatoes and bacon on the pastry. Pour in the egg mixture then sprinkle with the parmesan and chopped parsley.
Bake for 30 to 35 minutes or until the filling is set and the pastry is golden brown.
Serve warm or at room temperature.
Rate this recipe
Share this recipe
You might also like

Related Recipes: