Ingredients: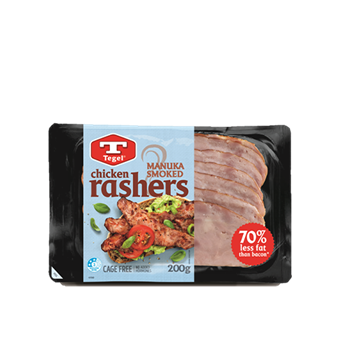 6 spears fresh asparagus
2 Tbsp olive oil
1 medium agria potato, peeled and sliced
1 onion, sliced
2 cloves garlic , finely chopped
6 Tegel Manuka Smoked Chicken Rashers , chopped
6 eggs, lightly beaten
2 Tbsp grated parmesan cheese
2 Tbsp chopped parsley
Method:
1. Place the asparagus in a saucepan of boiling water and blanch for 2 minutes. Drain and cut into 3 cm lengths. Set aside.
2. Heat the olive oil in a 20 cm frying pan. Add the potato and cook over medium heat, turning occasionally, for 10 minutes or until lightly browned. Add the onion, garlic and Tegel Manuka Smoked Chicken Rashers and cook for a further 5 minutes or until the potatoes are tender.
3. Add the asparagus to the pan. Pour over the beaten eggs and season with salt and pepper. Cook over medium low heat until the bottom of the frittata is set.
Sprinkle with the parmesan cheese then place under a preheated grill until the frittata is golden brown and cooked through. Sprinkle over chopped parsley before serving hot or cold.Serve with relish or chutney and a salad or serve cold cut into small pieces as finger food.
Rate this recipe
Share this recipe
You might also like

Related Recipes: