Ingredients: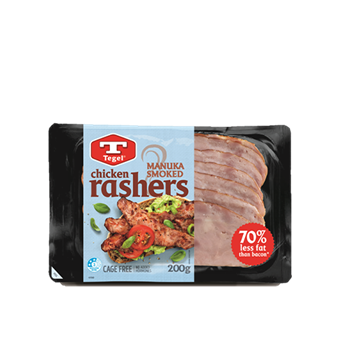 3 medium, ripe bananas
1 tsp butter
2 Tbsp maple syrup
400g pkt flaky puff pastry, thawed
1 cup baby rocket leaves
Method:
1. Preheat the oven to 200°C.  Peel bananas, halve lengthways. Gently melt butter in a 22cm ovenproof fry pan. Place bananas in the pan. Cook over a medium heat for 2-3 minutes to caramelise.
 
2. Slice each Tegel Manuka Smoked Chicken Rashers in half diagonally. Place in pan and arrange gently between banana halves working from the centre of the pan outwards. Be careful to keep bananas intact.Take the pan off the heat.
 
3. Roll pastry out to a 3mm thick circle, big enough to cover the fry pan. Place pastry over bananas and bacon in pan, tuck the pastry in around the edges to secure, then place pan in oven and bake for 15-20 minutes until the pastry is golden.
 
4. Gently and carefully turn the tarte out (upside down) onto a large platter, drizzle with maple syrup and serve warm, with a garnish of baby rocket.
 


Rate this recipe
Share this recipe
You might also like

Related Recipes: