Ingredients: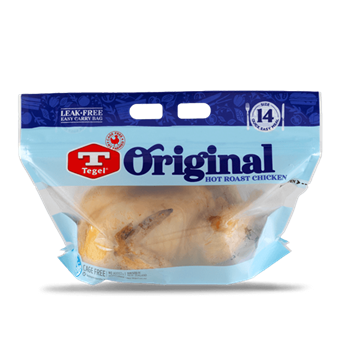 2-3 courgettes, sliced diagonally into 1cm slices.
2 cloves garlic, finely sliced.
Grated zest and juice of 1 lemon.
400g can cannellini beans, drained and rinsed.
1 Tegel Hot Cooked Chicken, cut int pieces, skin and bones removed
2 cups baby spinach leaves.
1/2 cup fresh basil leaves, torn.
1⁄2 cup grated Parmesan cheese.
1⁄4 cup olive oil.
Method:
1. Heat a dash of oil in a frying pan and cook courgettes and garlic over a medium heat until courgettes are starting to colour.
2. Remove the pan from the heat and stir through the lemon zest and cannellini beans. Season with salt and pepper to taste.
3. Transfer the contents of the pan to a large bowl or shallow platter and toss with the  Tegel Hot Cooked Chicken, spinach,  basil leaves and Parmesan.
4. Drizzle with combined lemon juice and olive oil.
Tips for Chicken Salad with Lemon, Courgettes & Cannellini Beans:
Rate this recipe
Share this recipe