Ingredients: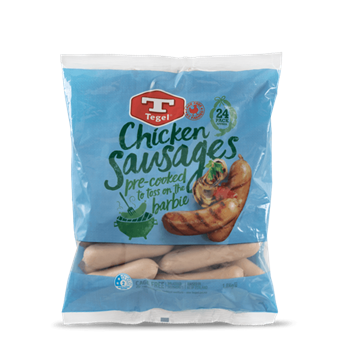 600g agria potatoes, cut into wedges
1 red onion, cut into wedges
3 garlic cloves, sliced
2-3 sprigs rosemary
3 Tbsp oilve oil
8 Tegel Pre-cooked Chicken Sausages 1.8kg, cut in half lengthwise
1 punnet of cherry tomatoes
1/4 cup chopped basil or parsley
Method:
1. Preheat the oven to 200°C.
2. Place the potatoes, red onion, garlic and rosemary into an oven dish and toss with olive oil. Season with salt and pepper. Bake for 15 to 20 minutes.
3. Add the halved Tegel Pre-cooked Chicken Sausages 1.8kg and cook for a further 20 minutes or until the potatoes and sausages are golden.
4. Add the cherry tomatoes and cook for further few minutes until the tomatoes are just beginning to soften. Garnish with the basil or parsley.
5. Serve with a fresh green salad or seasonal green vegetables.
Rate this recipe
Share this recipe