Ingredients: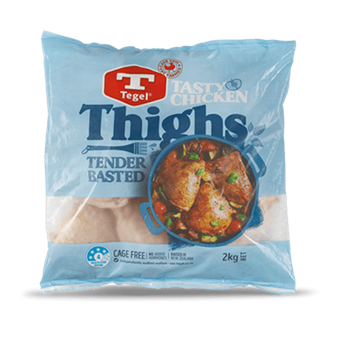 1 green pepper, deseeded and roughly chopped
½ cup roughly chopped flat-leaf parsley
2 slices bread for breadcrumbs
Zest from half lemon
3 Tbsp olive oil
12 toothpicks
Method:
1. Preheat oven to 200°C.
2. In a food processor put the green pepper, parsley, bread and lemon zest and pulse until finely chopped. With the motor running, drizzle in olive oil until the mixture begins to form a ball (starts to clump together). Season with salt and pepper.
3. Flatten each Tegel Frozen Chicken Thighs 2kg, use a meat tenderiser if you want to. Put about 1-2 tablespoons of stuffing in the middle of each and roll the thigh, bringing together and securing with 2 toothpicks to assist with holding it in place.
Place the thighs, toothpick side down, in an oiled roasting dish. Drizzle more olive over the thighs and cook for 30 minutes until golden brown and cooked through.
4. Serve either whole or cut on the diagonal with a green salad and/or risotto.
Tips for Chicken Thighs with Green Pepper and Parsley Stuffing :
Rate this recipe
Share this recipe