Ingredients: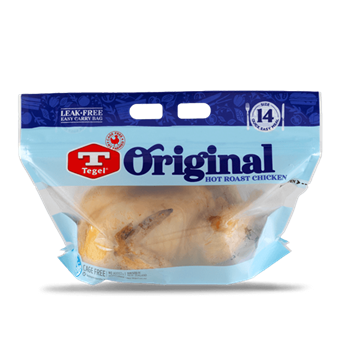 250g penne pasta
1 onion, chopped
2 cloves garlic, crushed
1 tsp dried Italian herbs or oregano
1/2 cup dry white wine
400g can crushed tomatoes
2 Tbsp tomato paste
1 cup chicken stock
1 Tegel Medium sized Original Rotisserie Chicken, shredded, skin discarded
1/4 cup chopped Italian parsley
1/2 cup finely grated parmesan
1/4 cup basil leaves
Fresh green salad to serve
Method:
1. Preheat the oven to 180°C.
2. Cook the pasta following the packet directions. Drain and set aside.
3. Heat a dash of oil in a frying pan. Add the onion and garlic and cook over medium heat for 3 to 4 minutes or until golden. Add the Italian herbs or oregano and wine and simmer for 2 minutes. Add the tomatoes, tomato paste and chicken stock. Simmer for a further 5 minutes.
4. Add the pasta, shredded chicken and parsley to the pan and mix well. Place the mixture into an 8 cup capacity baking dish. Top with the parmesan.
Bake for 20 minutes or until it is golden brown and heated through.
5. Scatter over the basil and serve with a fresh green salad.
Tips for Chicken, Tomato & Penne Bake:
Rate this recipe
Share this recipe