Ingredients: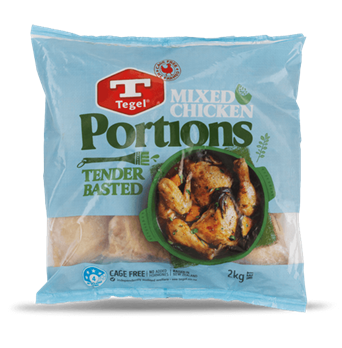 1/4 cup flour
1 red onion, cut into wedges
2 cloves garlic, sliced
1/2 cup dry white wine
1 lemon, cut into wedges
2 cups chicken stock
1/2 cup pitted green olives, halved
2 Tbsp capers
1/4 cup chopped Italian parsley
Method:
1. Preheat the oven to 180°C.
2. Place the flour on a plate and season with salt and pepper. Coat the Tegel Mixed Chicken Portions 2kg in the seasoned flour, shaking off any excess. 
3. Heat a dash of olive oil in a large frying pan and brown the chicken over high heat. Remove the chicken and place in a large ovenproof dish.
4. Add the onion and garlic to the pan, adding a little extra oil if necessary and brown over medium heat for 2 to 3 minutes. Add the wine and simmer for a further 2 minutes. Add the onion mixture to the oven dish with the lemon wedges, chicken stock, green olives and capers.
5. Bake uncovered for 1 hour, basting occasionally, until the chicken is very tender. Stir in the Italian parsley.Serve with baked potatoes and seasonal green vegetables.
Tips for Chicken with Lemon & Olives:
Rate this recipe
Share this recipe