Ingredients: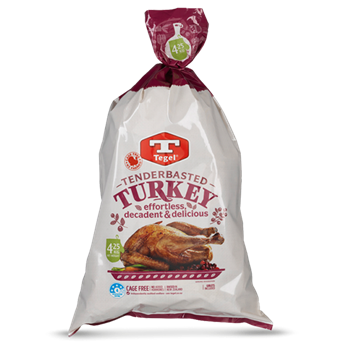 1 onion, diced
2 tsp minced fresh garlic
4 rashers bacon, diced
2 cups fresh white breadcrumbs or cooked rice
grated zest of two oranges
1/2 cup raisins
300g bottle Wattie's Bit on the Side Cracker Cranberry Sauce
50g butter, softened
2 Tbsp honey
Method:
1. Preheat the oven to 160°C.
2. To make the stuffing, heat a dash of oil in a frying pan and cook the onion, garlic and bacon until softened. Add the breadcrumbs, orange zest, raisins, 1/2 cup of the Cranberry Sauce and mix together. Season.
3. Spoon the stuffing into the Tegel Whole Frozen Turkey - Various Sizes cavity. Tie the turkey legs together and tuck the wings underneath the body. Spread the butter on top of the turkey and place into a roasting dish.
4. Roast for 2 hours 40 minutes*, or until the juices run clear when pierced in the thickest part of the bird.
5. Mix the remaining cranberry sauce with the honey, and during the last 20 minutes of cooking time, brush the turkey regularly to glaze.
6. Allow the turkey to rest for 15 minutes before carving. Serve with seasonal vegetables or salad on the side.
* Cooking times are based on a size 3.5 Tegel Whole Frozen Turkey - Various Sizes. For other sizes cooking times see our turkey tips.
Tips for Cranberry Turkey:
Rate this recipe
Share this recipe