Ingredients: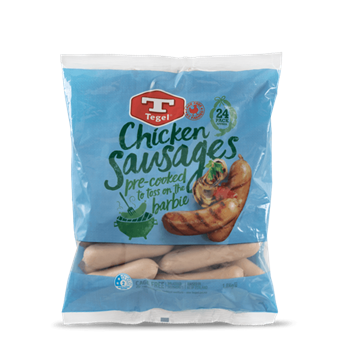 1 onion, sliced
2 cloves garlic, crushed
1 tsp Dijon mustard
3 Tbsp Worcestershire sauce
3 Tbsp tomato sauce
2 tsp brown sugar
1/2 cup water
1 apple, peeled and sliced thinly
Method:
1. Heat a dash of oil in a frying pan. Add the Tegel Pre-cooked Chicken Sausages 1.8kg and cook over medium heat until they are golden brown. Remove from the heat and set aside.
2. Add the onion and garlic to the pan and cook for 2 to 3 minutes or until golden. Stir in the Dijon mustard, Worcestershire sauce, tomato sauce, brown sugar and water.
3. Add the sausages back to the pan along with the sliced apple, and simmer for 4 to 5 minutes or until the sausages are warmed through.
4. Serve with mashed potatoes and green vegetables.
Rate this recipe
Share this recipe