Ingredients: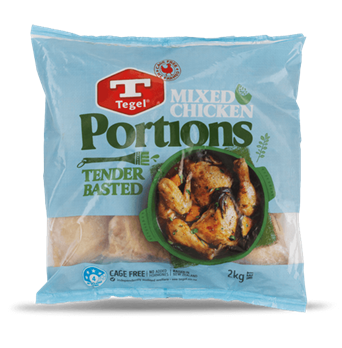 6-8 Tegel Mixed Chicken Portions 2kg, thawed
2 medium onions, chopped
2 tsp each grated root ginger, crushed garlic
1 tsp chill powder (or to taste)
2 tsp each ground cumin, coriander, paprika
2 roasted or chargrilled red peppers, skinned deseeded and chopped
6 ripe tomatoes, diced
2 spring onions, chopped
Fresh coriander
Method:
1. Heat a dash of oil in a lidded large fry pan. Add the Tegel Mixed Chicken Portions 2kg in batches and lightly brown on both sides. Remove to a platter.
2. Add the onions and sauté until transparent. Add the ginger, garlic, chilli powder, cumin, coriander and paprika and cook for 30 seconds.
3. Return the chicken to the pan. Add the peppers and tomatoes. Mix well. Cover and cook on low heat until the chicken is tender, about 40 minutes. Sprinkle the chopped spring onions and fresh coriander on top. Serve with a fresh green salad or seasonal vegetables
Tips for Firecracker Chicken:
Rate this recipe
Share this recipe