Ingredients: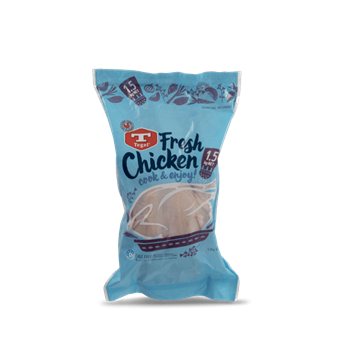 Fresh basil leaves
1 lemon, cut into wedges
15g butter
3/4 cup chicken stock
Tapenade:
2 Tegel Manuka Smoked Chicken Rashers chopped
1 small onion, finely chopped
1 small red pepper, deseeded and finely chopped
2 cloves garlic, crushed
2 tsp chopped fresh thyme
1/2 cup pitted black olives, finely chopped
1 anchovy fillet, chopped (optional)
2 Tbsp chopped parsley
2 Tbsp capers, drained and chopped
Black pepper to taste
Method:
1. Preheat the oven to 180°C.
2. Place the basil leaves and lemon wedges inside the cavity of the Tegel Fresh Whole Chicken. Place the chicken into a roasting dish.
3. Spread the butter on top of the breast. Place 1/2  cup chicken stock in the dish. Roast the chicken for 1 hour and 50 minutes or until the juices run clear when pierced through the thickest part of the thigh. Baste occasionally and add extra chicken stock as necessary. Stand for 5 minutes before carving.
Tapenade:
4.Heat a dash of olive oil in a frying pan. Add the Tegel Manuka Smoked Chicken Rashers and cook until it is crisp and golden. Add the onion, red pepper, garlic and thyme and continue to cook over medium heat for a further 2 to 3 minutes. Add the black olives, chopped anchovy fillet (if used), parsley and capers and cook for a further 3 minutes. Season with black pepper.
5. Serve the chicken with the tapenade, roast vegetables and seasonal green vegetables.
Tips for French Roast Chicken with Tapenade:
Rate this recipe
Share this recipe
You might also like

Related Recipes: