Ingredients: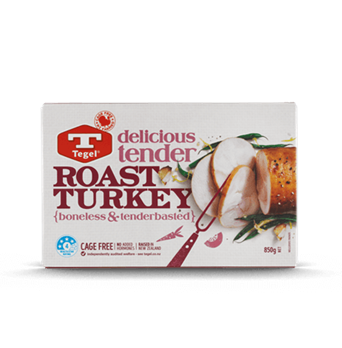 Mango and Orange Salsa:
425g can Mangoes in Light Syrup, drained
2 oranges
3-4 spring onions, trimmed and finely chopped
2 tsp finely minced fresh ginger
2 Tbsp honey
1 Tbsp each chopped fresh parsley and mint


Method:
1. Preheat oven to 180°C.
2. Carefully snip the netting off the Tegel Turkey Roast 850g, leaving the thin skin underneath intact. Wrap the streaky bacon rashers over the roll in an overlapping manner and secure with toothpicks if necessary.
3. Place on a rack over a baking dish and cook for 1 1/2 hours. Stand 5 minutes before removing the toothpicks.
4. Serve sliced either hot or cold with the Mango and Orange Salsa.
Mango and Orange Salsa:
1. Dice the mangoes into small pieces. Grate the zest from the oranges then peel away and discard the thick white bitter pith. Segment the flesh finely.
2. In a bowl mix together the mangoes, orange rind and flesh, spring onions, ginger, honey, parsley, mint and a dash of oil.
Tips for Glazed Boneless Roasted Turkey with Mango & Orange Salsa:
Rate this recipe
Share this recipe
You might also like

Related Recipes:

Related Products: