Ingredients: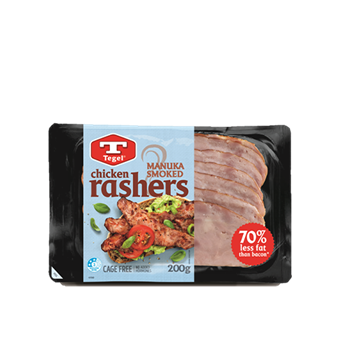 2 large thin pizza bases
2 sachets pizza sauce
2 cups grated mozzarella cheese
200g Tegel Manuka Smoked Chicken Rashers , chopped
1/2 cup drained canned pineapple pieces
1 tsp dried oregano
Italian parsley leaves to garnish
Method:
1. Preheat the oven to 200°C.
2. Place the pizza bases on an oven tray. Spread a sachet of pizza sauce on each pizza base. Top with mozzarella, Tegel Manuka Smoked Chicken Rashers and pineapple, and sprinkle with oregano.
3. Bake for 15 to 20 minutes, or until the bases are crisp and golden and the cheese is bubbly. Garnish with Italian parsley.
Hint: Slice into thin wedges and serve as a nibble.
Rate this recipe
Share this recipe
You might also like

Related Recipes: