Ingredients: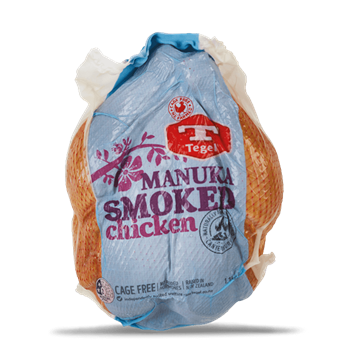 3 Tbsp oil
2 stalks celery, finely sliced
2 onions, finely chopped
2 cloves garlic, crushed 
3 Tbsp flour
¼ tsp cayenne pepper
1 tsp smoked paprika
500g floury potatoes, chopped into 1.5cm pieces
2 cups frozen corn kernels
3 cups chicken stock
¼ cup finely chopped parsley
1 cup milk
125ml sour cream
extra chopped parsley to serve.
Method:
1. Remove the flesh from the Tegel Manuka Smoked Whole Chicken - Original 1.1kg, discard skin and bones.  Chop the meat into small pieces and refrigerate until needed.
2. Heat the oil in a large saucepan over a low heat, gently cook celery, onion and garlic until tender.  Add the flour cayenne pepper and smoked paprika. Stir and cook for 2 minutes. 
3. Add the potatoes, corn and chicken stock. Stir while bringing to the boil. Reduce heat and simmer for 20 minutes.  When the potatoes are almost cooked add chopped smoked chicken. 
4. Add parsley, milk and sour cream and heat through but do not boil. Season to taste.
Sprinkle over extra chopped parsley before serving.
Rate this recipe
Share this recipe