Ingredients: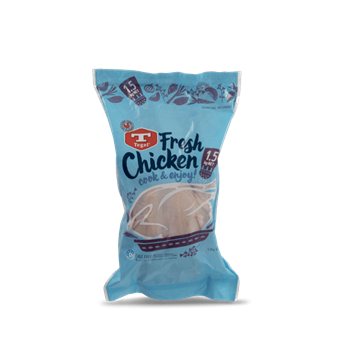 Jerk Marinade:
1 medium onion, chopped
2 spring onions, chopped
12 whole allspice
2 Tbsp grated fresh ginger
2 bay leaves
1 Tbsp fresh thyme
3 cloves garlic, peeled
2 Tbsp soy sauce
2 small scotch bonnet peppers (or other hot peppers/chillies)
Juice from 2 limes
2 Tbsp oil
Jerk sauce:
¼ cup left-over marinade (above)
½ cup tomato sauce
1 Tbsp soy sauce
Method:
1. Jerk Marinade: Make the jerk marinade by putting all ingredients in a food processor, blender or mortar and pestle and blending until smooth.
2. Using a pair of kitchen scissors, cut along each side of the backbone of the Tegel Fresh Whole Chicken. Discard the backbone. Place the chicken on a flat surface and press down to flatten it. Cut slashes into the skin of the thighs and drums.
3. Reserve a quarter cup of the marinade for the sauce. Smother the surface of the chicken with the remaining marinade and leave for as long as you can in the fridge.
4. Preheat the oven to 200°C.
5. Place chicken in a roasting dish and cover with foil. Cook for 40 minutes. Remove foil and cook for a further 15-20 minutes or until the chicken is well browned and fully cooked. 
6. Jerk sauce: Put remaining marinade in a saucepan with tomato and soy sauce. Bring to the boil for 5-7 minutes until thickened. 
7. Chop chicken roughly and serve with jerk sauce and rice and peas. 
Cook's Tip: Build your own Jamaican pit oven!
Take a roasting dish and in one corner build a small pile of twigs" -  I use small branches of bay tree, rosemary and sage stalks. Balance a wire rack over the top and place your butterflied, marinated chicken on this. Cover and seal tightly with foil, remembering what corner your twig pile is! Now place the corner (with the twigs on it) of the tray on the stove top over an element/burner turned to a medium heat. Be patient and leave until you can hear the crackling of your smouldering branches. Once this has died down put whole tray into a hot (200°C) oven and leave to cook for a further 30 minutes. 
Remove the foil carefully (to prevent a steam burn!) and continue cooking until the chicken is well browned and cooked through – another 15-20 minutes.
Tips for Home-made Jerk Chicken:
Rate this recipe
Share this recipe