Ingredients: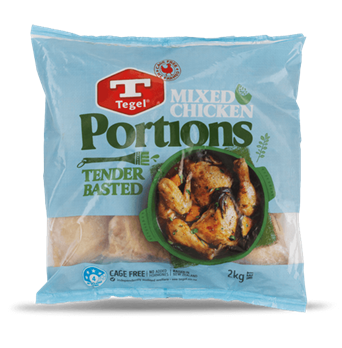 6-8 Tegel Mixed Chicken Portions 2kg, thawed
1/2 cup mayonnaise
2 Tbsp each rice vinegar or lemon juice, wasabi paste or mustard
2 cups fresh breadcrumbs or Japanese Panko crumbs
2 tsp caraway seeds
Method:
1. Whisk the mayonnaise, vinegar and wasabi paste. Brush the mixture over the Tegel Mixed Chicken Portions 2kg.
2. Place the breadcrumbs and seeds in a bowl and coat the chicken with the mixture. Chill for 30 minutes.
3. Preheat the oven to 180°C. Place the chicken in a large roasting pan. Bake for 30-40 minutes, until cooked and golden. Serve with your favourite salad on the side.
Tips for Mayo & Wasabi Chicken:
Rate this recipe
Share this recipe