Ingredients: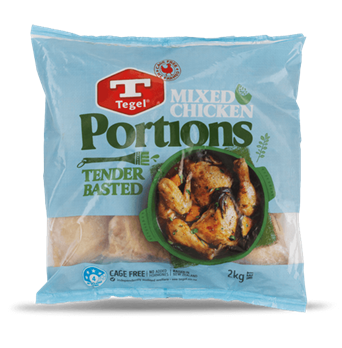 1/4 tsp saffron threads
2 cups reduced salt chicken stock
2 tbsp olive oil
1Kg Tegel Mixed Chicken Portions 2kg
1 onion, chopped
2 cloves garlic, crushed
1 tsp ground coriander
1 tsp ground cumin
1 tsp paprika
1 tsp ground ginger
1/2 tsp ground cinnamon
1/2 cup dried apricots
Fresh coriander or Italian parsley to garnish
Method:
1. Preheat the oven to 180°C.
2. Place the saffron threads and stock in a saucepan and bring to the boil. Turn off the heat and set aside for the saffron to infuse into the stock.
3. Heat a little oil in a large frying pan or saucepan. Add the Tegel Mixed Chicken Portions 2kg in batches and cook over high heat until they are golden brown. Remove from the pan and place into a large casserole dish.
4. Add the onion and garlic to the pan and cook for 3 to 4 minutes over medium heat or until golden. Add the coriander, cumin, paprika, ginger, and cinnamon and cook, stirring, for a further minute. Add the stock with saffron and bring to the boil.
5. Pour the onion and stock mixture over the chicken in the casserole dish.  Add the dried apricots. Cover and bake in the oven for 1 hour or until the chicken is tender.
6. Garnish with the coriander. Serve with couscous flavoured with lemon and coriander and seasonal green vegetables
Tips for Moroccan Chicken Casserole:
Rate this recipe
Share this recipe