Ingredients: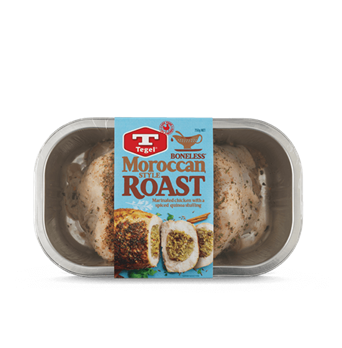 2 x Tegel Moroccan Boneless Chicken Roast with quinoa & date stuffing
750 gms pumpkin, peeled and cut into bite-sized pieces
1 red onion, diced
1 red capsicum, diced  
1 bunch kale leaves, stem removed & roughly torn   
2 tablespoons olive oil
1 tablespoon honey
1 tablespoon orange zest
1 red chilli, finely diced  
¼ cup toasted salted flaked almonds
½ cup Greek style yogurt
2 tablespoons orange juice
1 tablespoon dukkha 
Method:
Pre-heat oven to 180 degs and remove seal from chicken, roast for 40-50 minutes or until golden and the juices run clear, then rest chicken for 5 minutes before slicing.
For pumpkin salad combine the diced pumpkin with the onion and capsicum and toss with the oil, honey, orange zest and chilli, season well and arrange in a single layer on a lined roasting tray, cook for 25-30 minutes or until caramelised and tender. Toss the kale with a little oil and sea salt and add to the roasting vegies for the last 5 minutes.
Combine the yogurt, orange juice and a little dukkha.
Slice the chicken and serve with the pumpkin salad, finish with a scatter of toasted almonds and serve with a dollop of the orange scented yogurt and sprinkle with dukkha.  
Tips for Moroccan Spiced Chicken Roast with Quinoa and Date stuffing served with Pumpkin and Kale salad:
Rate this recipe
Share this recipe