Ingredients: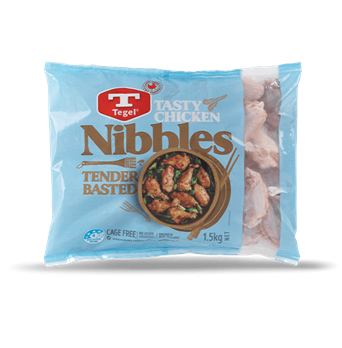 300g Tegel Frozen Chicken Nibbles 1.5kg, trimmed of excess skin or fat
150g Spanish green olives, pitted
3 cloves garlic, roughly chopped
2 Tbsp flat leaf parsley, finely chopped
1 tsp freshly ground black pepper 
3 Tbsp olive oil
Method:
1. Preheat the oven to 200°C.
2. Place Tegel Frozen Chicken Nibbles 1.5kg in a large bowl. Roughly chop half the green olives, leaving the rest whole. Add to chicken with the garlic, parsley, black pepper and olive oil.  Toss to coat. Transfer to a roasting pan. Roast for 30 minutes until chicken is cooked. Serve hot on small plates. 
Tips for Parsley and Green Olive Chicken Nibbles:
Rate this recipe
Share this recipe
You might also like

Related Recipes:

Related Products: