Ingredients: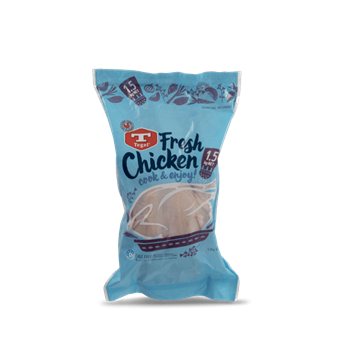 ½ lemon, cut in half
2 cloves garlic, sliced in half
2-3 medium sized floury potatoes (e.g. Agria)
1 kumara
300g pumpkin
1 ½ cups frozen peas
1 small head broccoli, chopped into florets
Packet chicken gravy mix
Method:
1. Preheat the oven to 180°C.
2. Pat the thawed Tegel Fresh Whole Chicken dry with paper towels and then place the chicken in a roasting tin and rub all over with a little oil. Season with salt and freshly ground black pepper and pop the lemon and garlic into the cavity.
3. When the oven is heated, place the chicken in (middle shelf or slightly lower) and cook for 1 ½ hours or until juices run clear when a skewer is inserted into the thickest part of the thigh.
4. Once the chicken has been in the oven for 45 minutes, peel and chop the potatoes. Rinse them and pat dry. Place the potatoes around the chicken and continue to cook.
5. Peel and chop the kumara and chop the pumpkin into wedges. Give the potatoes 15 minutes head start before adding these to the pan as well. Make sure the vegetables are in a single layer and turn them a couple of times during cooking.
6. Once the chicken is cooked transfer it to a serving plate, cover loosely with foil and allow to sit 10 minutes before carving. Let the roasting vegetables continue to cook or if they are already tender then transfer them to a oven proof dish, turn the oven off and place the dish in the oven until you are ready.
7. Bring two small saucepans of water to the boil and cook peas and broccoli for a few minutes each.
8. Make 1 cup of gravy according to the packet instructions. You can use pan juices and/or vegetable cooking water to make the gravy if you like.
9. Serve the chicken with the roasted vegetables, peas, broccoli and a jug of gravy.
Tips for Perfect Roast Chicken Dinner:
Rate this recipe
Share this recipe