Ingredients: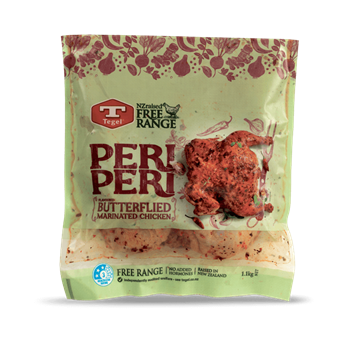 1 x Tegel Free Range Peri Peri Butterflied Chicken

16 small new potatoes

handful cherry tomatoes (mix coloured), quartered

½ cup corn kernels, cooked

½ red onion, finely chopped

1 red capsicum, diced

2 tablespoons roughly chopped coriander leaves

1 tablespoon extra virgin olive oil

juice from 1 lime

salt and freshly ground black pepper

2 tablespoons roughly chopped parsley
Method:
Heat a barbecue hot plate or oven and cook the chicken according to packet instructions.

Place the potatoes in a saucepan, cover with cold water, sprinkle with salt and cook over a medium heat until only just tender.  Drain well and remove from the pan to cool.

Combine the tomatoes, corn, onion, capscium and coriander in a small bowl.  Drizzle with 1 tablespoon extra olive oil and lime juice and season with salt and pepper.

Gently squash the potatoes with a potato masher, trying to keep them intact.

Cook the potatoes alongside the chicken for the last 10 minutes of cooking until crisp and golden. 

Serve chicken with corn salsa and smashed potatoes.  Sprinkle the potatoes with salt, pepper and parsley.
Tips for Peri Peri Free Range Butterflied Chicken with Smashed Potatoes :
Rate this recipe
Share this recipe
You might also like

Related Products: