Ingredients: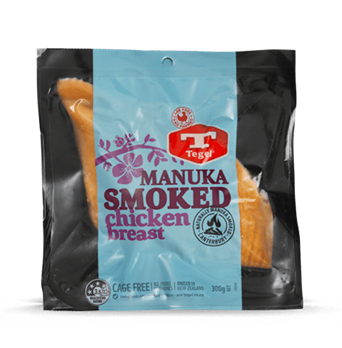 2 large red peppers
375ml prepared mild chilli taco sauce
4 thin pizza bases
2 cups grated mozzarella cheese
2 ripe but firm avocados
2 limes
Sour cream to garnish
1 cup chopped coriander
Method:
1. Preheat oven to 200°C (fan bake). Chargrill peppers in the flame of a gas element, under a hot grill, or on a barbecue hotplate until blackened. Drape with kitchen paper and when cool, peel off blackened skin. Remove cores and seeds and cut peppers into strips.
 
2. Slice Tegel Manuka Smoked Chicken Breast - Original 300g thinly along the length with a sharp knife. Spread a little chilli sauce over pizza bases then put on chicken slices and peppers.  Add a few dollops of sauce here and there, then finally sprinkle over mozzarella.
 
3. Bake pizzas for 15 minutes, or until golden and bubbling.
 4. Have ready avocados, halved, peeled, stoned and sliced.Arrange on top of pizzas, squirting with lime juice. Put on a dollop or two of sour cream and a good sprinkling of coriander. Serve immediately.
 
Julie's Tip: If your baking tray is large enough, you can squeeze two pizzas together on one tray, if you have two trays you can cook all four pizzas together. Alternate the trays halfway through cooking so both trays receive the same amount of top and bottom heat.
 
* Recipe courtesy of Julie Biuso.
Rate this recipe
Share this recipe