Ingredients: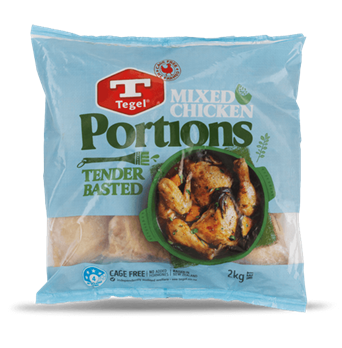 4 small parsnips or turnips
8 small potatoes
1 fennel bulb or leek, sliced
6 shallots, unpeeled
8 cloves garlic, unpeeled
4 sprigs rosemary
1 cup white wine
1 cup salt reduced chicken stock 
12 baby carrots
Method:

1. Preheat oven to 180°C.
2. Arrange the Tegel Mixed Chicken Portions 2kg in a single layer in a baking dish or casserole dish. Season the chicken with salt and pepper.
3. Add the parsnips or turnips, potatoes, fennel or leek, shallots, garlic and rosemary. Pour the wine and chicken stock into the dish.
4. Cover with foil and bake for 30 minutes. Add the baby carrots, cover with foil and cook for a further 20 minutes. Remove the foil and cook for a further 20 minutes or until the vegetables are lightly browned and soft – the garlic and shallots will squeeze out of their skins.
5. Serve with green vegetables.
Rate this recipe
Share this recipe