Ingredients: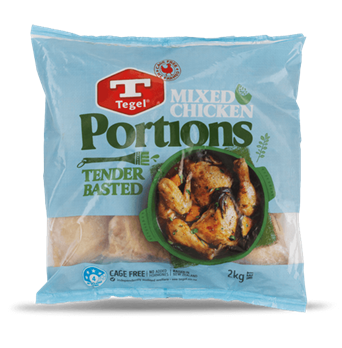 Summer Fruit Salad:
1 cup orange juice
3 Tbsp each: lemon juice, brown sugar
1 Tbsp each: cornflour, light soy sauce
Dash of Tabasco sauce
3-4 nectarines or peaches, stoned and sliced

Tomato Salsa:
500g ripe tomatoes, diced
1-2 red chillies, deseeded and diced
2 Tbsp each: chopped parsley, coriander
1 small red onion, finely diced
1 tsp each: red wine vinegar, sugar
2 Tbsp olive oil
Method:
1. Thaw Tegel Mixed Chicken Portions 2kg according to bag instructions.
2. Preheat the oven to 200°C. Spray a large baking pan with oil.
3. Place the chicken in a bag with the flour, herbs and season with black pepper. Shake to coat the chicken evenly.
4. Place the chicken in the pan leaving plenty of space between each piece. Spray with oil. Bake for about 40 minutes or until cooked and golden and crisp on the outside.
5. Accompany with Summer fruit salad or tomato salsa. Serve with a fresh green salad or your favourite steamed green vegetables and boiled baby potatoes
Summer Fruit Salad: Combine orange and lemon juices, brown sugar, cornflour, soy sauce and Tabasco saucein a saucepan. Bring to the boil, stirring constantly until sauce thickens. Remove from the heat and add the fruit. Serve over the hot chicken.
Tomato Salsa: Combine all the ingredients except the oil. Add oil to mixture just before serving.
Tips for Quick & Easy Baked Chicken:
Rate this recipe
Share this recipe