Ingredients: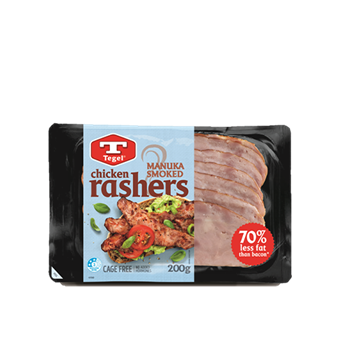 1 onion, chopped
1 clove garlic, crushed
200g Tegel Manuka Smoked Chicken Rashers , chopped
1 tsp dried oregano
1 litre chicken stock
400g can crushed tomatoes
1 medium potato, peeled and chopped
3 cups chopped vegetables – carrot, courgettes, beans, celery
400g can cannellini or red kidney beans, drained and rinsed
chopped parsley to garnish
Method:
1. Heat a dash of olive oil in a large saucepan. Add the onion, garlic, Tegel Manuka Smoked Chicken Rashers and oregano and cook over medium heat for 3 to 4 minutes or until golden.
2. Add the chicken stock, tomatoes and chopped potato. Cover and simmer for 10 minutes.
3. Add the remaining vegetables and simmer for a further 10 minutes or until the vegetables are tender. Add the beans and return to the heat until they are warmed through.
4. Season with freshly ground black pepper and stir in the parsley. Serve with crusty bread.
Rate this recipe
Share this recipe
You might also like

Related Recipes: