Ingredients: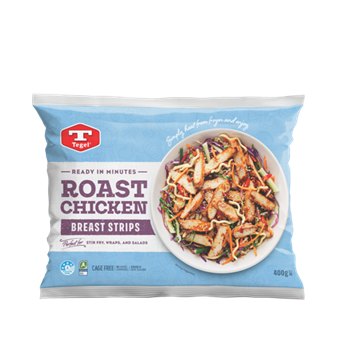 400 grams Frozen Tegel Roast Chicken Breast Strips
1 tablespoon sesame oil
1 small red onion, sliced into wedges
1 clove garlic, sliced
1 inch piece of ginger, peeled and finely sliced
3-4 cups of stir-fry vegetables
¼ cup water or stock
½ cup sweet chilli sauce
3 tablespoons lime or lemon juice
3 tablespoon tamari or light soy
Method:
1. Heat the sesame oil in a large frying pan or wok and sauté the onion, garlic and ginger over a gentle heat until tender and fragrant
2. Add the Tegel chicken strips and toss gently then add the water or stock and simmer the chicken until separated.
3. Add the vegetables and let them steam a minute or two until tender and brightly coloured and water has reduced.
4. Drizzle over the sweet chilli, lime and tamari and gently mix then increase the heat until saucy and sticky.
5. Serve with a side of rice and sesame seeds to garnish if desired.
Rate this recipe
Share this recipe