Ingredients: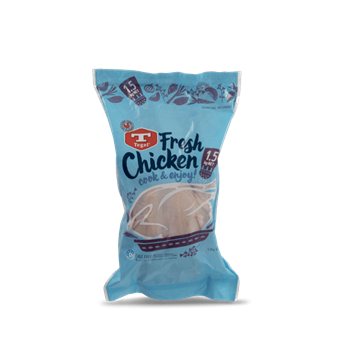 1 Tegel Fresh Whole Chicken, fresh or frozen (thawed)
Stuffing:
1 tsp butter
3 Tegel Manuka Smoked Chicken Rashers chopped
1 small onion, chopped
1 tsp dried Italian herbs or mixed herbs
1/2 French bread stick, cut into small cubes (2 cups)
2 Tbsp chopped sundried tomatoes
2 Tbsp chopped parsley
1 egg, lightly beaten
Method:
1. Preheat the oven to 180°C.
Stuffing:
2. Heat a frying pan over medium heat. Add the butter, Tegel Manuka Smoked Chicken Rashers and onion and cook for 3 to 4 minutes. Place the French bread cubes, herbs, sundried tomatoes, parsley and onion mixture into a bowl. Season with salt and pepper. Add the egg and mix to combine.
3. Wash the Tegel Fresh Whole Chicken and pat dry on the inside and out with paper towels.
4. Place the stuffing loosely inside the cavity of the chicken and secure with bamboo skewers. Roast following the instructions on the pack, or until the juices run clear when pierced through the thickest part of the thigh. Baste occasionally.
5. Serve with roast vegetables and steamed greens.
Tips for Roast Chicken with Sundried Tomato & Herb Stuffing:
Rate this recipe
Share this recipe
You might also like

Related Recipes: