Ingredients: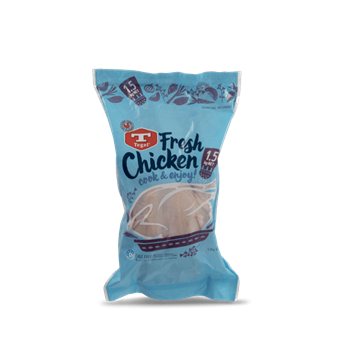 1 lemon, cut into wedges
1 red onion, cut into wedges
2 Tbsp olive oil
1 Tbsp finely chopped rosemary 
1 bulb garlic, cloves separated, unpeeled
1 cup chicken stock
1/2 cup dry white wine
Extra rosemary for garnish
Polenta:
2 cups chicken stock
2 cups milk
1 cup instant polenta
1/2 cup grated parmesan
10g butter
Freshly ground black pepper
Method:
1. Preheat the oven to 180°C.
2. Place the lemon and red onion inside the cavity of the Tegel Fresh Whole Chicken. Rub the olive oil on the chicken then sprinkle with the rosemary and season with salt and pepper. Place the chicken into a roasting dish. Add the garlic, chicken stock and wine.
Roast the chicken for 1 1/2 hours or until the juices run clear when pierced through the thickest part of the thigh. Baste occasionally. Leave to stand for 10 minutes before carving.
3. Serve the chicken on a bed of polenta. Drizzle the pan juices and the garlic cloves over the chicken. Squeeze the garlic cloves to release the creamy garlic. Garnish with extra rosemary. Serve with seasonal vegetables.
Polenta:
1. place the extra chicken stock and milk into a saucepan. Bring to the boil then add the polenta in a steady stream, stirring constantly. Simmer for 3 to 4 minutes or until it is thick and creamy. Stir in the parmesan and butter and season with black pepper. Keep warm.
Tips for Roast Chicken with Wine & Garlic on Soft Polenta:
Rate this recipe
Share this recipe