Ingredients: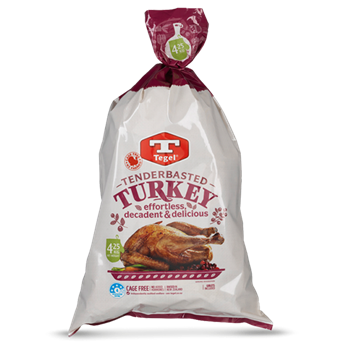 25g butter
2 Tegel Manuka Smoked Chicken Rashers , chopped
1 apple, peeled and diced
1 small onion, finely chopped
4 slices of toasted bread, crumbed
1/4 cup fresh sage leaves, chopped or 1 1/2 Tbsp rubbed sage
1 egg


Method:
1. Preheat the oven to 160°C.
2. Remove the giblets and neck from the Tegel Whole Frozen Turkey - Various Sizes and place it in a roasting pan.
3. To make the stuffing, melt the butter in a saucepan. Gently fry the Tegel Manuka Smoked Chicken Rashers , apple and onion for 2 minutes. Remove from heat. Mix in the breadcrumbs and sage. Season. Add egg and mix until combined.
4. Spoon the stuffing into the cavity of the turkey. Tie the drums together with string and tuck the wings underneath.
5. Roast for 2 hours 40 minutes*, or until the juices run clear when pierced in the thickest part of the bird.
6. Remove from the oven and allow the turkey to rest for 15 minutes before carving.
7. Serve with roast vegetables and seasonal greens.
* Cooking times are based on a size 3.5 Tegel Whole Frozen Turkey - Various Sizes. For other sizes cooking times see our turkey tips
Tips for Roast Turkey with Apple, Rashers & Sage Stuffing :
Rate this recipe
Share this recipe
You might also like

Related Recipes: