Ingredients: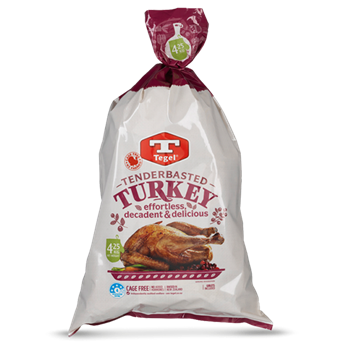 Stuffing:
200g pack dried apricots (chopped)
1 cup orange juice
2 Tbsp grated orange rind
2 onions (finely chopped)
2 Tbsp oil
2 tsp dried thyme
3 cups soft breadcrumbs
1 egg, beaten
Port Sauce:
375g jar whole cranberry sauce
2 spring onions, finely sliced
1/2 cup orange juice
1 Tbsp sugar
1 Tbsp balsamic vinegar
1/2 cup port or sherry


Method:
1. Preheat the oven to 160°C.
2. Remove neck and giblets pack from the Tegel Whole Frozen Turkey - Various Sizes.
3. Spoon the stuffing into the turkey cavity. Tie the turkey legs together with string. Tuck the turkey wings underneath and place in a roasting dish.
4. Roast for 2 hours 40 minutes*, or until the juices run clear when pierced in the thickest part of the bird. Remove from the oven and allow the turkey to rest for 15 minutes before carving.
5. Serve with the cranberry port sauce and seasonal vegetables.
Stuffing:
1. Soak chopped apricots in orange juice for 10 minutes. Mix all the stuffing ingredients together. Season with salt and pepper.
Cranberry Port Sauce:
1. Heat a non-stick saucepan and lightly simmer all ingredients for 5 – 10 minutes, stirring gently until combined. Serve warm with sliced turkey.
* Cooking times are based on a size 3.5 Tegel Whole Frozen Turkey - Various Sizes. For other sizes cooking times see our Turkey Tips
Tips for Roast Turkey with Apricot & Orange Stuffing & Cranberry Port Sauce:
Rate this recipe
Share this recipe