Ingredients: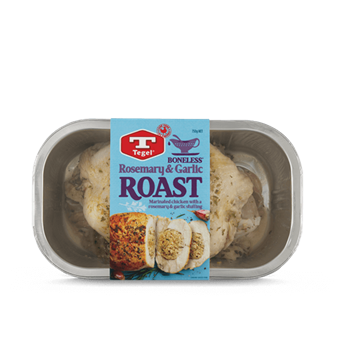 2 x Tegel Rosemary & Garlic Stuffed Boneless Roast
3 medium agria potatoes, peeled and diced
2 Parsnip, peeled and diced  
½ cup minted peas
1 tablespoon sour cream
Sea salt & pepper
Balsamic Glaze:
½ cup balsamic vinegar
½ cup red wine
2 sprigs rosemary
2 tablespoons brown sugar
Summer vege – baby carrots, snow peas, zucchini etc  
Method:
Pre-heat the oven to 180 dgs and remove the seal from the chicken, roast for 40-50 minutes until golden and the juices run clear, rest for 5 minutes before slicing.
For the parsnip mash, simmer the potatoes and parsnip in plenty of boiling salted water until tender, add the peas for the last 2 minutes of cooking. Drain well and mash together with the sour cream and season well.
For the glaze simmer the balsamic, wine, rosemary and sugar until reduce by half and syrupy.
Blanch the summer vege and then toss with a little olive oil and seasoning.
Serve with sliced roasted chicken with a side of creamy mash and summer vegetables, drizzle with balsamic glaze and a sprinkle of cracked pepper.
Tips for Rosemary and Garlic Stuffed Chicken with Parsnip and Pea Mash :
Rate this recipe
Share this recipe