Ingredients: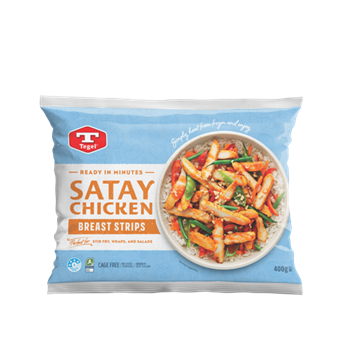 200g pack vermicelli noodles

¼ cup crunchy peanut butter

3 tablespoons hoisin sauce

2-3 teaspoons sriracha sauce

1 tablespoon soy sauce

2 tablespoons rice vinegar

1/2 cucumber, cut in matchsticks

1 cup mung bean sprouts

Thai basil, lime wedges & chopped peanuts to serve
Method:
1. Cook the Satay Roast Chicken Breast Strips as per packet instructions.
2. While the chicken is cooking, place the vermicelli noodles in boiling water for 2 minutes. Drain and rinse under cold water. Divide between serving bowls.
3. To make the dressing whisk together the peanut butter, hoisin, sriracha and soy sauces and rice vinegar with 2-3 tablespoons water. Set aside.
4. Place the chicken on top of the vermicelli noodles with the cucumber & mung beans. Drizzle over the satay dressing and top with the herbs, lime and peanuts.
Tips for Satay Chicken Noodle Bowls:
Rate this recipe
Share this recipe
You might also like

Related Products: