Ingredients: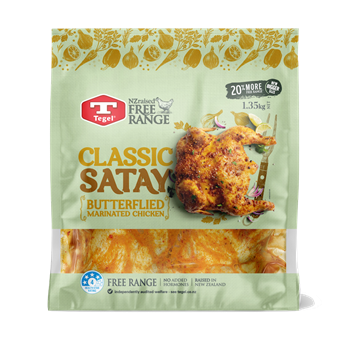 1 Tegel Free Range Classic Satay Butterflied Chicken

1/4 cup smooth peanut butter

1/2 cup coconut milk

2 teaspoons lime or lemon juice

2 teaspoons grated fresh ginger

1 clove garlic, finely chopped

2 teaspoons soy sauce

1 teaspoon fish sauce

1 teaspoon brown sugar

1 small iceberg lettuce

1 carrot, grated

3 spring onions, finely sliced

¼ cup coriander leaves

¼ cup basil leaves

¼ cup salted roasted peanuts

large handful crisp fried noodles
To spice up the salad add some finely chopped chilli to the dressing.
Method:
Cook the chicken on a barbecue hotplate or in the oven according to packet instructions.

Combine the peanut butter, coconut milk, lime juice, ginger,  garlic, soy, fish sauce and sugar together in a small bowl.  Taste and add a little salt if needed.

Arrange the salad ingredients on a large platter. 

Top with chicken, drizzle with dressing and serve.
Tips for Satay Butterflied Chicken with Bang Bang Salad :
Rate this recipe
Share this recipe