Ingredients: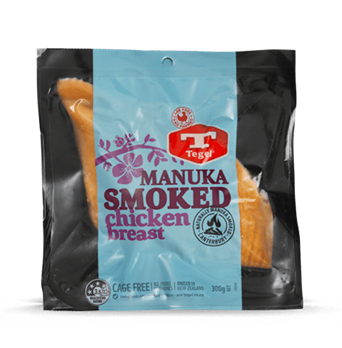 130g packet baby spinach
300g Tegel Manuka Smoked Chicken Breast - Original 300g, skin removed, chopped finely
2 spring onions, chopped
1/2 cup grated cheese
Freshly ground black pepper
16 sheets filo pastry
Olive oil spray or olive oil for brushing
1 egg, lightly beaten
2 Tbsp sesame seeds
Method:
1. Preheat the oven to 180°C.
2. Place the baby spinach into a bowl. Cover with boiling water, leave to sit for 2 to 3 minutes until it is wilted. Drain well, squeezing out excess moisture.
3. In a small bowl mix together the chopped Tegel Manuka Smoked Chicken Breast - Original 300g, drained baby spinach, spring onions and cheese. Season with black pepper.
4. Place one pastry sheet on a clean flat surface, spray or brush with olive oil, and then place another sheet of pastry on top and again spray or brush with oil. Cut the pastry into 4 strips.
5. Place a heaped tablespoon of the filling in one corner of each of the pastry strips. Fold diagonally to create a triangle then continue to fold over and over, retaining the triangle shape. Repeat the process with the remaining filo pastry sheets and filling.
6. Place the filo triangles on to a baking tray lined with baking paper. Brush with the beaten egg and sprinkle with sesame seeds.
7. Bake for 15 to 20 minutes, or until the triangles are golden brown.
Rate this recipe
Share this recipe