Ingredients: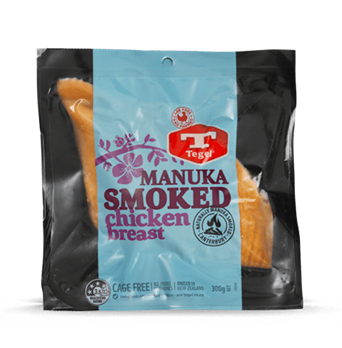 1 1/2 sheets (260g) frozen butter puff pastry, thawed
2 Tbsp olive oil
1 large red onion, sliced into rings
300g spinach, washed and tough stems discarded
300g Tegel Manuka Smoked Chicken Breast - Original 300g
150g feta, crumbled
½ cup freshly grated parmesan cheese
¼ cup pine nuts
1 egg yolk, beaten
Method:
1. Preheat oven to 200°C. 
2. Heat oil in a large frying pan and cook onion rings for a few minutes to soften. Set aside. Add spinach to the pan and cook until completely wilted.  Allow to cool enough to handle and then squeeze out excess moisture.
3. Place pastry end to end on a large tray allowing a 1-2 cm overlap where the 2 pieces meet and press to seal.  Fold edges in making a 1cm border around the outside of the pastry.
4. Cover the pastry with onion and then spinach keeping the border free of topping.
5. Thinly sliceTegel Manuka Smoked Chicken Breast - Original 300g and place in overlapping pieces on the spinach. Sprinkle with feta, parmesan and top with pine nuts. Brush pastry edges with egg yolk.
6. Bake for 15 minutes until puffed and golden.
Rate this recipe
Share this recipe