Ingredients: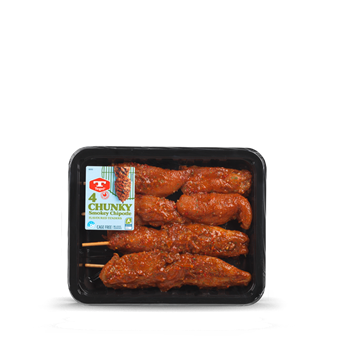 2 x Tegel Smokey Chipotle Chunky Tenders
Spray oil
2 agria potatoes
2 carrots,
2 parsnip
2 coloured kumara
2 tablespoons olive oil
1 teaspoon celery salt or seasoned salt 
Fresh chopped thyme
½ cup sour cream
½ cup mayonnaise
1 clove garlic, finely chopped
1 Lemon, zest and juice
1 tablespoon honey mustard
Rocket leaves to serve
Method:
Pre-heat the oven to 180 degs, and line a large roasting tray with baking paper. Cut the potato, carrots, parsnip and kumara into similar sized chips or wedges and toss with the oil, seasoning and fresh thyme, arrange on the lined tray in a single layer and roast until golden and tender. Lightly spray the tenders with oil and grill,BBQ of oven bake until golden and cooked through.
Mix together the sour cream, mayo, garlic, lemon juice and zest and honey mustard.
Serve the chunky tenders with the roasted vegie chips and a good dollop of sour cream dip.
Tips for Smokey Chipotle Chunky Tenders with Root Vegetable Chips and Sour Cream Dip :
Rate this recipe
Share this recipe