Ingredients: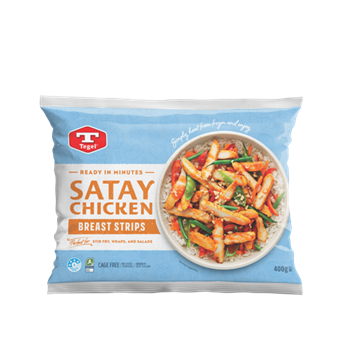 4 small - medium sized golden kumara
1 tablespoon olive oil
Sea salt
400 grams Tegel Satay Chicken Breast Strips
1 tablespoon olive oil
1 small onion, finely diced
1 clove garlic, finely chopped
1 can mild chilli beans
½ cup grated mozzarella cheese
½ cup sour cream
¼ cup sweet chilli sauce
Side salad to serve
Method:
1. Pre-heat the oven to 190°C. Rub the kumara with the oil and salt and place on the baking rack in the centre of the oven and roast for 15-20 minutes until tender. 
2. Meanwhile, heat the oil in a large saucepan and sauté the onion and garlic for 2-3 minutes until tender and fragrant.
3. Add the Tegel chicken strips and toss together, heating a few minutes to separate the strips, then add the chilli beans and simmer for 5 minutes until heated through and saucy.
4. Cut a wedge out of the centre of each kumara or alternatively cut each kumara in half lengthwise and place on a lined baking tray. Top with the chicken and bean mixture and sprinkle with cheese, grill for 5 minutes until the cheese is golden and bubbling.
5. Serve topped with a dollop of sour cream and a swirl of sweet chilli. Serve with summer greens on the side.
Rate this recipe
Share this recipe
You might also like

Related Products: