Ingredients: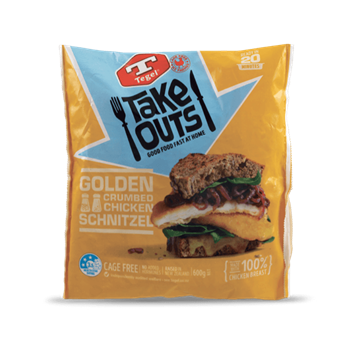 4 long crusty bread rolls
2 Tbsp mayonnaise
Cos or iceberg lettuce leaves
2 medium tomatoes, sliced
1/2 cup grated cheese
Sweet chilli sauce to serve
Method:
1. Cook the Take Out schnitzels following the directions on the pack.
2. Cut the bread rolls lengthwise, almost in half, leaving the bread roll in tact. Spread one cut side with mayonnaise.
3. Cut the schnitzels in half while hot and place inside the bread roll. Add the lettuce, tomatoes, and cheese. Drizzle with sweet chilli sauce and serve immediately.
Rate this recipe
Share this recipe
You might also like

Related Recipes:

Related Products: