Ingredients: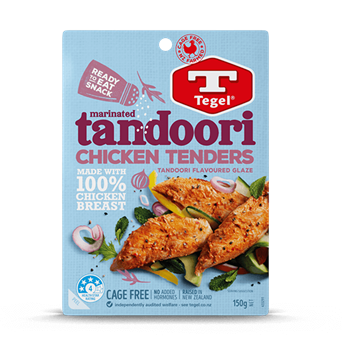 2 onions, finely sliced

2 tablespoons oil

4 naan bread, warmed (small in size)

2 tablespoons fruit chutney

handful baby spinach leaves

1 cup grated cheddar cheese
Naan Bread:
1 teaspoon surebake yeast

½ teaspoon sugar

1/2 cup lukewarm milk

2 cups high grade flour

1/2 teaspoon salt

1 tablespoon melted butter

2 tablespoon natural yoghurt
Method:
Combine the onions with the oil in a shallow saucepan and gently cook for 20 minutes until the onion is tender.

Spread the naan bread with the chutney and then cover with onion and baby spinach leaves. 

Arrange the chicken on top, sprinkle with cheese and then grill until the cheese is melted and bubbling.
 Nann Bread:
Dissolve the yeast and sugar in the milk. Leave to sit for 5 minutes until frothy.
Combine the flour and salt in a large bowl, mix in the frothy milk, butter and yoghurt, mix well. The dough should come together without being too sticky.  Add a little extra milk or flour as needed.
Turn the dough out of the bowl and knead until smooth and elastic.  
Place in a lightly oiled bowl, cover and set aside in a warm spot until doubled in bulk – about 1 hour.
Divide the dough into 6 balls. Roll out into discs.
Heat a griddle or barbecue hot plate and cook naan until golden on each side and well cooked.
Brush with melted butter (can use garlic butter).
Tips for Tandoori Chicken Tenders Naan Pizzas :
Rate this recipe
Share this recipe